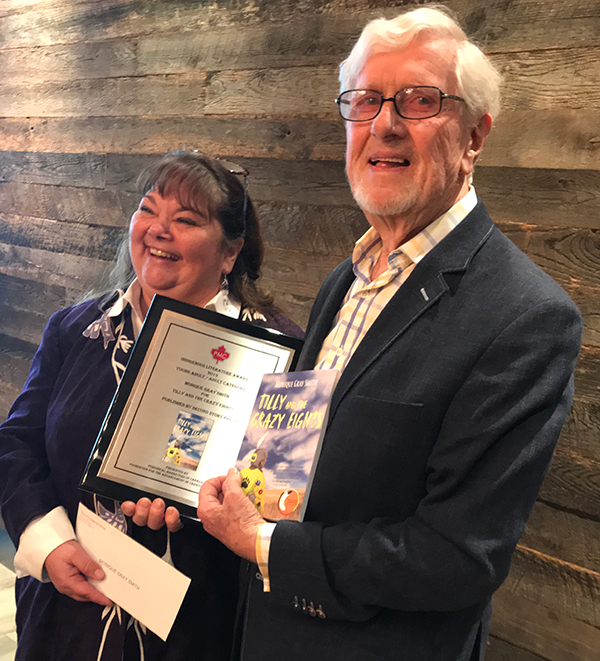 PMC's sponsorship of the PMC Indigenous Literature Awards was wrapped up with a November 12 luncheon in Toronto hosted by our partners the Southern Ontario Library Service. The luncheon was arranged by SOLS program coordinator Nancy Cooper and attended winning author in the Young Adult/Adult category Monique Gray Smith as well as friends and representatives of the organizations involved. On hand representing PMC were Ray Argyle and Barry Francis. Unfortunately, Cindy Blackstock, the winning author in the Children's category was unable to attend the luncheon due to the cancellation of her flight and her award will be presented at a later date.
In presenting the award for the Young Adult/Adult category to Monique Gray Smith which included a handsome plaque and a cheque for $3,000, Argyle noted that this is the sixth year that PMC has sponsored the award and spoke of the great pride our organization takes in this sponsorship which he described as "a small token of reconciliation."
The PMC Indigenous Literature Awards are part of the First Nation Communities Read program. The short list honorees and the ultimate winning entries in the Children's and Young/Adult categories are chosen by a jury of Indigenous librarians from across Ontario. The titles chosen by the jury represent the best of Indigenous literature from across Turtle Island (land of North America) today.
More about this year's winning entries:
Children's Category
Cindy Blackstock's winning entry was: "Spirit Bear: Fishing for Knowledge, Catching Dreams" (Published by First Nations Child & Family Caring Society) Dr. Cindy Blackstock is a member of the Gitxsan First Nation. She is honoured to serve as the Executive Director of the First Nations Child and Family Caring Society and a professor at McGill University's School of Social Work. Cindy is frequently sighted in the company of the Caring Society's reconciliation Am-bear-rister, Spirit Bear, engaging children in meaningful actions to implement the TRC Calls to Action. In the book, Spirit Bear is off on another adventure He travels to meet with his Uncle Huckleberry and learn about traditional knowledge and Residential Schools. Then he visits Algonquin territory where children teach him about Shannen's Dream. Spirit Bear and his new friends won't stop until Shannen's Dream of 'safe and comfy schools' comes true for every First Nations student.
Young Adult/Adult Category
Monique Gray Smith's winning entry was: "Tilly and the Crazy Eights" (Published by Second Story Press). Monique Gray Smith is Cree, Lakota, and Scottish, and a proud mom of teenage twins. She is an accomplished international speaker and the owner of an Indigenous consulting firm, Little Drum Consulting. Her life's work is to raise awareness of the resilience of Indigenous peoples. In Tilly and the Crazy Eights, an unexpected journey can be powerful medicine. When Tilly receives an invitation to help drive eight elders on their ultimate bucket list road trip to Albuquerque, New Mexico, for the Gathering of Nations Pow Wow, she impulsively says yes. Before she knows it, Tilly has said goodbye to her family and is behind the wheel – ready to embark on an adventure that will transform her in ways she could not predict, just as it will for each and every one of the seniors on the trip, who soon dub themselves 'the Crazy Eights.' 
Click here to view the official announcement